Gentle Ben is best pals with Shaelyn. How he came to live with her is yet another very unlikely story!

$17.99
Email or call for price.
ISBN: 9780062242648
Published: Harper Design - October 22nd, 2013

This one wins the Gentle Ben High 5! As an expert shaker with a superior tail wiggle, I appreciate the form of my fellow puppy pals in action.
---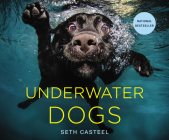 $21.00

ISBN: 9780316227704
Availability: Available to Order
Published: Little, Brown and Company - October 23rd, 2012

Another winner of the Gentle Ben High 5 seal of pupproval. I love to look at this book when my webbed feet are not dipped in the water. It makes me think of how glorious it feels to be swimming!
---

$13.95
Email or call for price.
ISBN: 9780761174424
Published: Workman Publishing Company - October 8th, 2013

This book receives a solid 4 paws up. Even though my mom is my best friend, I love reading these stories of how other animals have met their best friends.
---