The Dinner That Cooked Itself (Hardcover)
Search for Your Next Book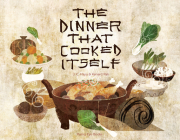 $19.75
Backordered - Shipping will be Delayed
Description
---
Long, long ago, in a small town in ancient China, there lived an honest and respectful man called Tuan. Tuan was lonely and looked hard for a wife, but even the matchmaker couldn't help him. One night, however, Tuan's luck changed. And so begins the story of Tuan, White Wave, and the Dinner that Cooked Itself. This beautiful and enchanting Chinese fairytale will captivate the imagination with the perfect blend of magic and realism!
About the Author
---
J.C. Hsyu was born in Taipei, Taiwan, and raised in Los Angeles. A graduate of UCLA and the Clarion Writers' Workshop, she has worked in the animation, VFX, and video game industries and published speculative fiction short stories. She lives in San Francisco, California, with her husband and reads incessantly. The Dinner That Cooked Itself is her first children's book.

Kenard Pak grew up in Baltimore and Howard County, Maryland. He studied at Syracuse University and California Institute of the Arts, and as a visual development artist worked on films with Dreamworks and Walt Disney Feature Animation. The Dinner that Cooked Itself is his second children's book. Along with his wife, he lives and works in San Francisco. Visit his website at pandagun.com.
Praise For…
---
Hsyu's retelling has a folkloric simplicity, planting just enough details to ground readers in the traditional tale. Pak's mixed-media illustrations evoke a misty, long-ago agrarian China, his expressive, angular faces contrasting pleasingly with fluid, lovingly created backdrops. […] A breath of fresh air in its beauty and simplicity.
—Kirkus Reviews

Hsyu debuts with a fine retelling of a Chinese folktale about a hardworking bachelor whose kindness is rewarded. […] Working in a pale, muted palette, Pak (Have You Heard the Nesting Bird?) contributes airy, rough-textured compositions that evoke both contemporary animation and ancient, weathered frescoes as the story takes a serpentine path to a happy ending.
—Publisher's Weekly

Hsyu and Pak have revived a Chinese folktale, keeping the flavor of ancient China while making the story appealing to a modern audience. […] A solid choice for multicultural folktale collections.
—School Library Journal

Kenard Pak's art is undoubtedly what makes Dinner a standout. His elongated characters with expressions he can conjure with just a few lines, the earthy palette of browns, blues, and greens he uses as if to ground the ethereal magic into something of this world, the use of various textures to create infinite backgrounds of mountains and sky, are just a few of his attentive, exquisite details.
—Smithsonian Asian Pacific American Center

Everything about The Dinner That Cooked Itself is delicious! The story, the spellbinding illustrations, and its sweetly surprising ending are elegant and magical.
—This Picture Book Life