Authors Anna Staniszewski and Rajani LaRocca join us to discuss their cousin-themed picture books, MY COUSIN'S MERMAID and SUMMER IS FOR COUSINS! Both books are beautiful stories of family and connection that you're sure to love. Anna and Rajani will discuss and sign copies of their books, as well as answer audience questions!
ABOUT THE BOOKS:
MY COUSIN'S MERMAID:
On a trip to visit her cousin in Poland, a child initially struggles with not feeling "Polish enough." She finds it hard to understand her aunt's quick Polish speech and feels embarrassed at her own attempts to speak Polish. When she and her cousin discover their shared love of fairy tales, though, they bond instantly and set off together on an adventure across the city of Warsaw to find Syrenka Warszawska (the Mermaid of Warsaw). Endnotes include Polish words and pronunciations, as well as information about Polish history, Polish fairy tales and Warsaw landmarks.
SUMMER IS FOR COUSINS:
Ravi can't wait to spend summer vacation at the lake house with his family—especially his cousins! Summer vacation is for days at the beach, long hikes, paddleboarding, and—of course—ice cream. Ravi and his oldest cousin, Dhruv, had the same favorite flavor last year, but everything feels different now.
Dhruv's much taller and his voice is deeper. Ravi's worried that Dhruv won't be interested in spending time with him, the little cousin. The ice cream shop doesn't even have their favorite flavor this year. But on the last night of vacation, the cousins decide to make dinner, and Ravi's in charge of dessert. He only has one special thing in mind!
ABOUT THE AUTHORS:
Born in Poland and raised in the United States, Anna Staniszewski grew up loving stories in both Polish and English. She was a Writer-in-Residence at the Boston Public Library and a winner of the Susan P. Bloom Discovery Award. Currently, Anna lives south of Boston, Massachusetts with her family and teaches courses on writing and children's literature. She is the author of over twenty books for young readers, including the novels Clique Here and The Wonder of Wildflowers; the picture books Dogosaurus Rex and Beast in Show; and the Once Upon a Fairy Tale chapter book series. annastan.com Ewa Poklewska-Koziello was born in Gdańsk, but currently she lives in Sopot, Poland. She studied architecture at the Technical University of Gdansk, where she found she was much more attracted to the decorative details of her architectural plans than to the technical aspects of them. This realization led her to become an illustrator. Today, she has published several dozen books, coursebooks and children magazines, and has participated in many exhibitions of illustrations. She has been nominated for the IBBY prize several times. Her artwork combines traditional and digital techniques: she begins by hand painting using gouaches, acrylics and crayons on paper and then incorporates further details on the computer. ewapoklewskakoziello.com
Rajani LaRocca is a physician and an author of books for young readers, such as Midsummer's Mayhem and Seven Golden Rings. She won a Newbery Honor in 2022 for her novel Red, White, and Whole. She was born in Bangalore, India, and immigrated to the United States when she was very young. She now lives in eastern Massachusetts with her family. You can find her online at rajanilarocca.com. Abhi Alwar is an Indian American illustrator and designer based in NYC. She is the illustrator of Hamsters Make Terrible Roommates, written by Cheryl Klein.
Sunday, September 24, 2023 - 3:00pm
Books:

$17.99

ISBN: 9798888590041
Availability: On Our Shelves Now
Published: Barefoot Books - September 5th, 2023
---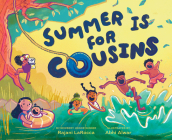 $17.99

ISBN: 9781419757334
Availability: On Our Shelves Now
Published: Harry N. Abrams - May 16th, 2023
---