To be frank, we know you'll love these two tales of friendship from picture book authors Jamie Michalak and Anika Denise! Jamie will talk about her new picture book, FRANK & BEAN, about an unlikely duet. Anika will discuss her new book, THE LOVE LETTER, about three animal friends who each find a mysterious love letter. After the presentation, the authors will answer audience questions and sign copies of their books.
ABOUT FRANK & BEAN:
When the introspective Frank meets the gregarious Bean, can they find a way to make beautiful music together? Dry wit and hilarious illustrations introduce a new unlikely pair.

Frank likes peace and quiet. He likes his tent, his pencil, and writing in his secret notebook. Bean likes noise. He likes his bus, his trumpet — toot, toot! — and making music. Loud music. But Bean is missing something: he does not have words. What will happen if Frank shares his words with Bean? With a laugh-out-loud narrative by Jamie Michalak, author of the Joe and Sparky series, and Bob Kolar's bright, graphic, comical illustrations, this fresh and funny story will go down easy for beginning readers and young listeners alike.
ABOUT THE AUTHOR:
Jamie Michalak is the author of Joe and Sparky, Party Animals!; Joe and Sparky Get New Wheels; Joe and Sparky Go to School; and Joe and Sparky, Superstars!, which Kirkus Reviews called a "little treasure" in a starred review. All are illustrated by Frank Remkiewicz. Jamie Michalak lives in Rhode Island.
ABOUT THE LOVE LETTER:
Readers of all ages will fall in love with this tender and silly picture book about three friends—Hedgehog, Bunny, and Squirrel—who are reminded of the joys of friendship after each discovering the same mysterious love letter.
* An Indie Next List Pick *
"Appealing illustrations combine with a timely message that one kind act can start a chain reaction of kindness…A sweet and far-from-cloying ode to love." –Kirkus Reviews
Fall in love with this endearing and adorable picture book that illustrates how a little bit of heart goes a long way to making the world a better place.
Hedgehog, Bunny, and Squirrel are best friends. One day, they each find a letter. But not just any letter...
A love letter.
My word!
My whiskers!
Aww, nuts!
Someone loves them. But who? The answer may surprise you!
Celebrated author Anika Aldamuy Denise and beloved illustrator Lucy Ruth Cummins deliver this heartwarming tale about a wonderful mix-up that reminds us of the joys of friendship.
ABOUT THE AUTHOR:
Anika Aldamuy Denise is the celebrated author of many picture books, including Planting Stories: The Life of Librarian and Storyteller Pura Belpré; Starring Carmen!; Lights, Camera, Carmen!; and Monster Trucks. A tradition she began with her oldest daughter—of leaving short poems and love notes for each other to find—inspired this story. She lives in Rhode Island with her husband, three children, and kitten named Charlie. Visit Anika online at www.anikadenise.com.
Event date:
Sunday, November 3, 2019 - 2:00pm

$15.99
ISBN: 9780763695590
Availability: Available to Order
Published: Candlewick - October 8th, 2019
---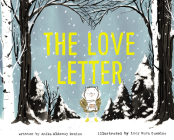 $17.99
ISBN: 9780062741578
Availability: Available to Order
Published: HarperCollins - October 8th, 2019
---