Don't stress about these April showers because Caldecott honoree John Rocco is coming to read his newest picture book, NOAH BUILDS AN ARK. Inspired by the biblical story of Noah, a young boy prepares for an approaching storm, but not just with his family. He also builds an ark to protect the creatures that live in his backyard! Families of all kinds will enjoy listening to the illustrator reading this sweet tale of a family's preparation and of a boy's care for nature. A question and answer session will follow the reading.
ABOUT THE BOOK:
A storm is coming — a big one. How does a young urban boy prepare? A lovely allegorical story about ecology and caring inspired by the ancient tale of stewardship.

While his family readies his townhouse for an approaching storm, boarding up windows and laying in groceries, Noah heads to the back garden, where beetles are burrowing deeper into the bark and mice are stuffing their hole with moss. Quickly and efficiently, Noah sets to work building an ark for them and other backyard creatures — salamanders and toads, snakes and spiders, even brightly colored hummingbirds. Setting out fistfuls of nuts and leaves, berries and seeds, the boy props a flashlight inside and arranges some miniature furniture for the animals to sit or sleep on. "Come," Noah whispers to his friends just as his mother calls him inside and the dark storm roars in. From an award-winning author and a Caldecott Honoree comes a quietly inspiring story about how taking action on behalf of our fellow earth travelers can help us face fearsome events.
ABOUT THE ILLUSTRATOR:
John Rocco is the coauthor of the young adult novel SWIM THAT ROCK and the illustrator of many books, including Katherine and John Paterson's award-winning THE FLINT HEART, of which Bookpage said, "John Rocco's digitally colored pencil drawings provide a perfect complement, glowing with fairy light." John Rocco lives in Los Angeles.
Event date:
Sunday, April 28, 2019 - 2:00pm
Event address:
An Unlikely Story (Second Story)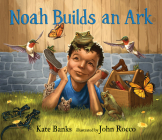 $16.99
ISBN: 9780763674847
Availability: Available to Order
Published: Candlewick - March 12th, 2019
---

$17.99
ISBN: 9781423121909
Availability: Available to Order
Published: Disney-Hyperion - May 24th, 2011
---

$17.99
ISBN: 9781423178651
Availability: Available to Order
Published: Disney-Hyperion - October 30th, 2014
---