Help young readers blossom into poets and astronomers with picture book authors Lisa Rogers and Hayley Barrett! Lisa will inspire young poets with her new book 16 WORDS about writer William Carlos Williams while small scientists will look to the stars with Hayley's book, WHAT MISS MITCHELL SAW about astronomer Maria Mitchell. At the event, the two authors will discuss their books and sign copies.
ABOUT 16 WORDS:
This simple nonfiction picture book about the beloved American poet William Carlos Williams is also about how being mindful can result in the creation of a great poem like "The Red Wheelbarrow"—which is only sixteen words long.

"Look out the window. What do you see? If you are Dr. William Carlos Williams, you see a wheelbarrow. A drizzle of rain. Chickens scratching in the damp earth." The wheelbarrow belongs to Thaddeus Marshall, a street vendor, who every day goes to work selling vegetables on the streets of Rutherford, New Jersey. That simple action inspires poet and doctor Williams to pick up some of his own tools—a pen and paper—and write his most famous poem.

In this lovely picture book, young listeners will see how paying attention to the simplest everyday things can inspire the greatest art, as they learn about a great American poet.
ABOUT WHAT MISS MITCHELL SAW:
Discover the amazing true story of Maria Mitchell, America's first professional female astronomer.
Every evening, from the time she was a child, Maria Mitchell stood on her rooftop with her telescope and swept the sky. And then one night she saw something unusual—a comet no one had ever seen before! Miss Mitchell's extraordinary discovery made her famous the world over and paved the way for her to become America's first professional female astronomer.

Gorgeously illustrated by Diana Sudyka, this moving picture book about a girl from humble beginnings who became a star in the field of astronomy is sure to inspire budding scientists everywhere.
ABOUT THE AUTHORS:
Lisa Rogers is an elementary school librarian and a former newspaper reporter and editor. In 2016, she received the PEN New England Susan P. Bloom Children's Book Discovery Award for an early version of 16 Words. She holds a master's degree in Library and Information Science and is a member of SCBWI. 16 Words is her first book for children.
Hayley Barrett is the author of three picture books, Babymoon, What Miss Mitchell Saw, and Girl Versus Squirrel. She lives and writes outside of Boston, Massachusetts.
Sunday, November 24, 2019 - 2:00pm
Books: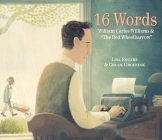 $17.99
Unavailable at this time
ISBN: 9781524720162
Published: Schwartz & Wade - September 24th, 2019
---

$17.99

ISBN: 9781481487597
Availability: Available to Order
Published: Beach Lane Books - September 3rd, 2019
---

$16.99
Unavailable at this time
ISBN: 9780763688523
Published: Candlewick - March 14th, 2019
---