Come meet Instagram sensation Piglet, the deaf blind pink puppy, in this in-person event! We've hosted Melissa Shapiro, DVM, and Piglet at the store twice now, and every time Piglet has warmed our hearts while teaching us acceptance, inclusion, empathy, and kindness. Melissa's new picture book, PIGLET COMES HOME, is a sweet and compassionate book about how the deaf and blind pink pup found his forever home. During this event, Melissa will read her new picture book, followed by a discussion about the Piglet Mindset, coined right here in Plainville. Piglet will even show off tricks using just smell and touch. After the presentation, Melissa will personalize books and stamp them with Piglet's paw print. Register to attend this event below.
Tickets to this event are $5.00 per person, and can be redeemed for $5.00 off your purchase of any of Melissa Shapiro's books available in-store the day of the event. The $5.00 coupon is only valid the day of the event and will be given to attendees at check-in.
Here are more details about the event:
If you would like to get your book personalized by Melissa at the event, she will be more than happy to sign and personalize copies, and stamp Piglet's paw print in it after her presentation. If you cannot attend the event but would like a signed/personalized book, please place your order below by June 9th and note in the comments section of your order that you'd like an autographed copy and the name you'd like inscribed in it.
You can take photos of Piglet while he does his presentation, and during the book signing. Posed photos, or touching Piglet, is not allowed. We need to be very respectful of Piglet, and maintain social distancing.
Piglet and his pack members are the only dogs allowed at the event, with the exception of service dogs.
ABOUT THE BOOK:
Real-life Instagram sensation Piglet the Pink Puppy inspired this sweet and compassionate picture book about the deaf and blind pup finding his forever home.

When the pup pack's owner leaves to bring them a new friend, the dogs wonder who will be coming back to join their family. Will it be a little pooch like Zoey or Annie? Or maybe a big dog with lots of energy like Gina?

But when Mom walks in carrying a teeny tiny box making lots of noise, everyone is confused. Pups don't make sounds like that, and surely the creature is too small and pink to be a dog! And poor little Piglet is shy and nervous, the pack isn't sure how to say hello. Will the dogs be able to make friends and show Piglet he has a place in his new home?

Saturday, June 11, 2022 - 1:00pm
Books: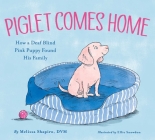 $18.99

ISBN: 9781534490185
Availability: Coming Soon - Available for Pre-Order Now
Published: Aladdin - June 7th, 2022
---

$18.00

ISBN: 9781982167189
Availability: Coming Soon - Available for Pre-Order Now
Published: Atria Books - June 7th, 2022
---